"Thank you for contacting me and Darius for the fabulous performance on July 4th at the National Archives. It was the highlight of my day! I was beyond thrilled at the size of the audience."
- Missy McNatt, Education Specialist & DC National History Day Coordinator at National Archives and Records Administration
Starry Road To Freedom
Starry Road To Freedom is a One Man Show on the life of the great Abolitionist Frederick Douglass, written and performed by Darius Wallace. This show is a journey through Frederick's life growing up as a slave on the plantation, until the moment he becomes free. Frederick Douglass' freedom began with learning how to read. He was fascinated with the power of the
written and spoken word. Family audiences will witness Darius Wallace transform into several different characters of influence on Douglass's life through song,
speeches, monologue and poetry.

Darius's hope is that audiences will be inspired by Frederick Douglass's ability to overcome adversity
through the power and inspiration of the written and spoken word. With this power we can not only transform ourselves but also the world around us.
The Frederick Douglass Family
The Frederick Douglass Family
"Darius Wallace's performance of Starry Road to Freedom: the Life of Frederick Douglass was stellar!!! His show moved me, my family, and the audience at his 205th birthday celebration. His performance captured the nuance of my Great- Great-Great Grandfather's humanity and was hugely inspiring."

-Keith Morris the great-great-great grandson of Frederick Douglass.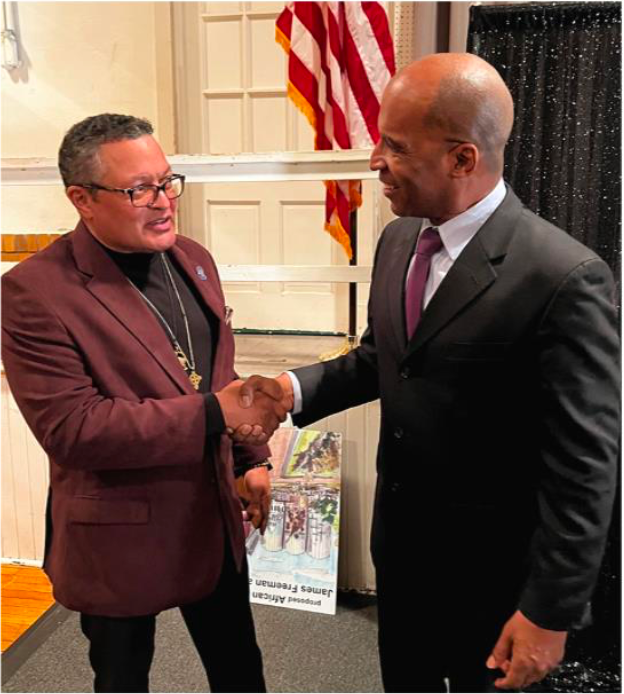 "Darius is an amazing and powerful actor. His shifting from character to character was unforgettable. He plays Frederick Douglass brilliantly."
-Tarance Bailey the Great-Great-Great Nephew of Frederick Douglass.
Download Darius Wallace's Press Kit
Frederick Douglass is the most heralded writer and abolitionist of 19th century America. He was born a slave and rose to the heights of American...
View

Product